Using Stamps in PDFit
Sometimes you just need to be able to add the same image to documents, this might be your business logo or an Approved image. The stamps are the feature to help you with this.
To add a stamp, click the Insert > Stamp in the toolbar. You can then click the Stamps dropdown and a list of stamps will appear.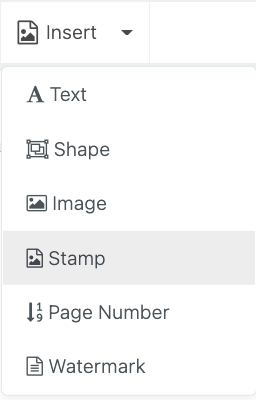 To use any of these, just select the stamp you want, then click where you want them to be inserted on the document.
To add your own, click upload stamp and find the image that you want to add to your list of stamps.
Note: These are only for you and not across the practice.
PDFit will then remember the stamp and you will be able to apply it to different documents.
If you are an admin, you can click your name in the top right, the go to "Your Settings". The bottom right section will be Practice Stamps. If you select this you can upload any stamps that you want all users to see, e.g. Your logo or a footer etc.
That stamp will then appear for all users once you click all users.